Colonel Davenport Historical Foundation
Security Requirements
Because the Rock Island Arsenal is a working military installation, advance registration is required for all bus groups visiting Rock Island Arsenal. No advance registration is required for individuals or groups visiting by car, van, camper, motorcycle, or bike.

All visitors must enter through the downtown Moline (Illinois) gate. Visitors who do not have an approved Department of Defense identification card and are 18 years old or older must obtain a visitor pass at the Visitor Control Center. It only takes a few minutes to get this pass.
To obtain a visitor pass, visitors will need to provide driver's license, state-issued identification card, or passport, last four digits of their Social Security number, and must complete a background check.
Residents of Minnesota, Missouri, and Washington states will need a social security card, or another approved I.D., to use with their driver's license or state-issued identification card.
It should only take 15 seconds to a couple minutes for this process. Children younger than 16 are not subject to a background check, but must be accompanied by an adult who has been vetted.
Once an initial background check has been completed, it should go faster the next time visiting the Rock Island Arsenal. Click here to fill out the form in advance of your visit.
http://www.usagria.army.mil/AccessRequests/Process.aspx
Thank you for your cooperation as the Colonel Davenport Historical Foundation works with these new security requirements. We want to encourage you to continue visiting the Colonel Davenport House.
Getting Here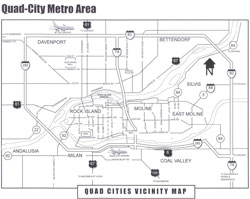 Larger Map