Colonel Davenport Historical Foundation
Events
2022 Events
June 5-12 - QC Museum Week - More info here...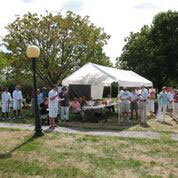 June 11-12 – Pioneer Days at the House – More info here...
Fur Trade Re-enactors
Hatchet & Knife Throwing
Pioneer Craft Demos: chair caning, basket making, broom making, yarn dolls, and more
Tours of the House
Saturday Speakers

1pm: Storyteller Brian "Fox" Ellis about Black Hawk
3pm: Author Cynthia Clampitt about how corn built the Midwest
The speakers portion of the event is co-produced by the Illinois Humanities Road Scholars Speakers Bureau, which invites Illinois authors, artists and educators to share their expertise and enthusiasm with people throughout the state, enabling local nonprofit organizations to present free-admission cultural programs to their communities.
Illinois Humanities is supported in part by the National Endowment for the Humanities (NEH) and the Illinois General Assembly [through the Illinois Arts Council Agency (IACA)], as well as by contributions from individuals, foundations and corporations.
Any views, findings, conclusions, or recommendations expressed by speakers, program participants, or audiences do not necessarily reflect those of the NEH, Illinois Humanities, IACA, our partnering organizations, or our funders.
July 19 – History Book Club: Wheat Flour Messiah
See Facebook page for more event details.